Here's a repost of the 2017 blog entitled:  ONE "CRAPPY" DAY 
FROM 2017...    Now if that title seems inappropriate, please forgive me and read on.  You'll figure it all out shortly.  I think that you will likely agree with me as well. 
This tour to this point has been amazing to say the least.  After awesome April weekends in Texas, Georgia, Missouri and Arkansas, it was time to head out.  One of those churches was one of the those Churches that were so essential in our beginnings.  It was truly a blessed evening among great friends. 
First stop after pulling "The VIrge" out of Greenville was a Thursday/Friday/Saturday campout with yet another of those three churches.  Time spent with these folks always seems much like a homecoming.  Every worship service was a blessing.  Every moment spent underneath the warm spring sunshine overlooking Lake Whitney was a memory in the making. 
Following a great Sunday morning with yet another great church (and one of the most beloved Pastors we have ever met) it was time to head west again, on towards California.  The second weekend of this tour happened to be at the third of those three churches.  Didn't plan it that way at all, but it sure was something!  The few mid-week days were spent at Fort Griffin Historical site near Albany Texas.  This is a beautiful, remote location that beckons relaxation and reflection.  So much so that we stayed an extra day. 
When Saturday morning dawned bright and clear, the three and one half hour trip to that third special church promised to be a peaceful morning's drive.  The air was fresh and clear when we pulled out of the campsite and headed for the sanitary dump.  It was the last wonderful thing I would smell for days. 
Pulling up to the dump station, I commented as we stepped out of the truck to do the necessary "dirty work", that I wouldn't want to be in that campsite right next to the dump station.  "This is the smelliest dump station I have ever seen".  Words that would haunt me for the next…  well, they still do. 
"Oh Joe", Shaunda called from the other side of the RV, "something's not right here". 
O how right she was.  There was, shall we say "water" streaming from the center of the RV underbelly.  And then it hit me.  It's not the dump that smells so bad.  It's us. 
Dirty work completed, we left that campground as fast as we could.  The "leakage" had subsided.  The smell had not.  I pulled over to the side of the road as we drove through the small town of Albany to check… ok, to smell.  I didn't have to.  A man mowing his front yard passed out right behind his push mower.  (That part is a bit exaggerated, but I'll just bet you he would remember us). 
On we drove to the west.  The silence was broken only by Shaunda asking me what we were going to do, and me answering that I had no earthly idea.  Repeat the conversation.  Repeat the conversation.  Repeat the conversation yet again. 
It was then I remembered that I "knew a guy" at this little church we were going to.  He's a guy I have really had a lot of fun with every time we have visited this congregation.  He had a few "unkind" things to say about cops.  I had a few comments of my own to share.  It was just one of those strange things where I felt like I really knew him.  We have both experienced loss.  This young guy also raises a little bit of cotton out in deep West Texas.  Surely he had someone working in his operation who wanted to do a nasty job and make a ridiculous hourly rate.  I was ready to pay any amount the repairman asked.  Hundreds?  Sure.  Thousands?  Maybe. 
Nope, no one was available.  He had already sent his hands home for the weekend.  And then he stopped me in my tracks.  "Bring it on over.  I'll bet we can fix it". 
"You don't understand" I argued.  "This is likely a mess… a real mess". 
He insisted.  I had no options. 
He met us along the main road to take us back to a little shop on a little cotton farm.  Good thing he did.  It was miles and miles down county roads.  I finally pulled The Virge into the long driveway and up to the 25' tall door on this "little" shop behind the house.  It looked more like a giant warehouse to me.  Every imaginable tool we could need.  A few green cotton strippers in the back awaiting their next opportunity for work.  In the field behind the shop stood more giant green tractors than I have fingers and toes.  Add to that the other various implements and this city boy was bordering on overload.  You see, this guy and his family farm more than ten thousand acres. 
"Pull her on in" said my buddy. 
"Are you sure?" I responded. 
"Oh yeah", came the answer. 
I pulled The Virge in.  He pulled out a giant knife.  He rolled under the middle of the trailer and gave the plastic underbelly a quick slice.  And then came a disaster of near Biblical proportions.  Poopageddon. 
"You're right", he said laughing and sputtering.  "Better back her outside!" 
For the next three hours we laughed, worked and rolled around in the "water".  Not to be too graphic, and I'm not sure why this happened, but the black tank on The Virge had twisted and fallen to the frame on one side.  When it did, it tore loose the vent pipe.  When the vent pipe came loose, it left a three inch hole in the top of the tanks.  When we rounded the curves to the dump station earlier that day, the "water" sloshed out the top of the tank and into the underbelly. 
Anyone sick yet?  Imagine me rolling around under the RV.  Now imagine a friend rolling around with me for three hours on a Saturday… in someone else's "water". 
Repairs finally complete, we headed to the place where we would camp that night.  Following a bath of bleach and a ceremonial burning of my clothes, we went to the church to set up.  Then it was on to the closest town (25 miles) for diesel fuel and a glorious Sonic supper at nine pm.  Only then did the real dilemma of the weekend present itself.  In a little more than twelve hours I would be preaching in Church.  I had already selected my topic.  I already had my theme chosen.  I already had my text. 
I Thessalonians 5:18 
In everything give thanks: for this is the will of God in Christ Jesus concerning you. 
In everything?  EVERYTHING???? 
How could I possibly give thanks for what had just happened?  Especially when the smell still lingered in my nasal passages.  Perhaps it was just in my imagination.  Yeah, that must be it cause I can STILL smell it.  Probably always will.    
And then I realized that I had much to be thankful for.  Had this never happened, I would have never known that this Cotton Farmer in West Texas would be willing to make make such a sacrifice for us.  Now let's be honest here.  This is a man who, as they say, could buy and sell me a hundred times over.  And yet he would humble himself to solve a problem for me I could not solve for myself.  Whether he even realizes it or not, we would likely have had to turn around and head back home, tour ended before it really began. 
For the record, Sunday was wonderful.  This small church sits at a crossroads in the middle of cotton fields and oil wells.  Services began at 10am.  The Pastor gave me the service at 10:01am.  Other than a short break, these folks worshipped with me, listened to me sing and heard me talk about our journeys for an hour and a half.  And only THEN was it time for me to speak.  I gave the text at the beginning of the sermon.  At the close, I returned to that text, and man did I have an illustration to close the message. 
You see, if I had never experienced a catastrophic failure of our waste system, I would have never realized the level of commitment that these folks have made to us.  Even though I would likely never choose to relive such a disgusting situation, I am still thankful for what the situation revealed.  I believe that somewhere in the middle of a cotton field in deep West Texas is a man driving a giant green tractor.  And I think that guy may really be my friend. 
Today, I am grateful for my crappy day.  I just don't want to do it again…  EVER!
AUTHOR'S NOTE...  The reason for this first trip to California back in 2017?  Our VERY FIRST Umbrella conference.  The one that would have never happened for us had we turned around and went home.  And very likely, none of the conferences that followed would have ever happened for us either.  Perhaps now you understand how important this church is to KNIGHTsong Ministries... and why we love them, and this very special, humble man, so much.
THE VIEW FROM MY WINDOW - APRIL 2022
DOES WHAT I DO REALLY MATTER?
I imagine that some of my friends from my law enforcement days just cringed when they read this title.  At the close of my first year as helping lead our Sheriff's Office I produced a video with the same title.  Modern law enforcement is a mostly thankless job where public attention typically comes in response to a mistake, mischaracterization or an outright lie.  Back then I thought the faithful men and women who served our County could use a bit of encouragement, so I created a video to address that concern.  I wanted them to know that what they really did matter.  In retrospect, I think I delivered a bit of encouragement.  Now that I think about it, I also delivered more that a few laughs at my expense. 
We're back home from our two weekends in Southwest Missouri.  As you may recall, our "tours" are now more often of the "two week" variety, and these were indeed two great weeks!  A dear friend of this ministry gifted us with a membership to a gorgeous RV resort in Branson.  (Both Shaunda and I hope this leads to even more weekends in this area in 2023!)  Another great friend (you can even read more about them in ON THE VIRGE) helped open an opportunity at First Baptist (Willard MO) where we had the privilege to make many new friends during their two Sunday services.  Another couple, also great friends of this ministry, made it possible for us to visit the "bustling burg" of Cedarcreek Missouri; but more on that later. 
We spent the days in between with friends while enjoying the off season in Branson.  One couple brought their RV and camped beside us for a few days.  Another great friend and fellow musician plays bass for the Baldknobbers.  That yielded a great matinee, and an even greater lunch!  We saw two other shows, ate some great food and met with a dear Pastor friend and his wife.  We took some refreshing walks, visited a couple tourist attractions, enjoyed a couple stress free rainy days and drove unimpeded up and down Highway 76 whenever we wanted.  The latter was made possible by the whole "off-season" thing. 
Yet it was during those drives that I was to face once again one of my long term personal struggles.  Thanks to a combination of growing older and the whispers of the enemy, it was time to grapple again with the nagging question: "Does what I do really matter?".  Silly, I know.  And actually way worse than "silly",  it is utterly baseless, and completely faithless.  Still it raises its ugly head from time to time.  If you read TEARS IN A BOTTLE, you may remember me talking very frankly about this struggle as I related my brush with a musical career instead of a ministry career. This came as a very young man in the form of a blown audition with the Cathedral Quartet.  Even though I did not realize it then, this was one of those life altering events. 
As you drive up and down "76 Country Boulevard" you are bombarded with Vegas style video screens and lighted marquees, all claiming to have the best show in town.  Many years ago I had the opportunity to produce and even play in a gospel show on this same road.  Back then it was one of the only gospel music shows. During these days images flashed before me of multiple religious shows and Sunday worship opportunities.  These video presentations, although soundless, held well produced imagery including action shots of musicians, vocalists, special effects, animated titles and animated worshippers.  I was reminded of the lack of all that when I simply sit behind a piano and tell Matt's story.  I was also reminded of a time when I led similar worship experiences in much larger venues.  A time when I was much younger.  And then the question surfaced again.  "Does what I do really matter?",  or is it time to reconsider and head to the local Cracker Barrel and start sizing ups those rockers on the front porch?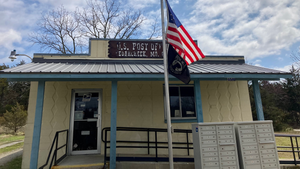 That brings me back to Cedarcreek, not really a "bustling burg" of any sort.  It consists of a post Office,  a fire station and a gas station.  In full disclosure, the gas station is shuttered.   Just outside of town is the home of the Open Door Community Church,  a small church situated beside an infrequently travelled road.  This Church is small in size for sure, but huge in heart and love for God and each other.  They are Pastored by an an energetic young mission Pastor and his wife and six children (and no, you didn't read that wrong.).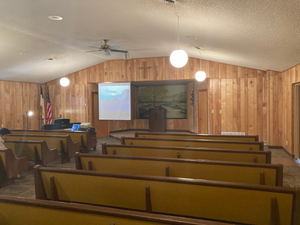 I mentioned earlier that we were brought here by some wonderful friends we met in our grief conferences.  Friends who share our unfortunate Journey.  This good friend took me on a tour of the town… Ok, we went to the post office and then the fire station for their Saturday flea market.  During this whirlwind tour I learned much about these people and  about their love for their community and the beautiful view of the Ozark mountains and Bull Shoals Lake.  I learned a bit about some of their struggles as well, and how they are all working together to save their fire department.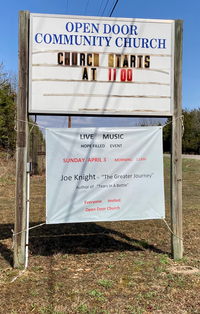 When the time finally came to tell Matt's story on Sunday morning, the church members came in one and two at a time until the church was nearly full.  After having led a packed kitchen/sunday school room in an earlier Bible Study, that young Pastor came to the front of the Sanctuary and led in announcements and opening prayer.  And then the six tiny speakers in the ceiling of the paneled sanctuary ceiling roared to life (sarcasm intended).  There were no in ear monitors to adjust, no haze machines in which to top off the fluid.  No lights to focus, no movers to aim, not even any sparkly boots to put on!  Just me, a small projector screen and Matt's story.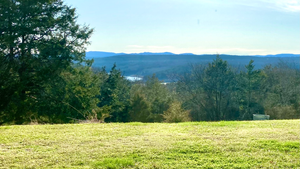 After a week of off and on wondering "Does what I do really matter?",  I would finally get my answer. On this Sunday morning at this tiny church beside that out of the way road,  a precious mom and her two teen age boys sat on a pew only a few rows back, right in front of the Piano.  For you see, although scheduled some three months earlier, this church lost their music director, and this family lost their Husband and Father to a heart attack only 3 days earlier. 
You may be struggling today.  You may be "enduring" your existence at a wide spot in the road or in the middle of a busy city.  You can experience loneliness and discouragement in either place.  Perhaps you feel like your faithful, genuine service for God is carried out in obscurity and with little appreciation.  Maybe some days you too feel like meeting me on the front porch at the Cracker Barrel.  I understand your struggle, I guess I will deal with it from time to time as long as I live.  However, today I move forward peering through the windshield, not the rearview, emboldened by that little church. I move forward reminded that success and fulfillment are not to be defined by earthly terms and standards, but rather with an eye to the Greater Journey. So with that, after a couple Sundays and with a restored heart, we soon head west once again to share in the lives of hurting moms at our first conference of the year. 
In Luke 9,  a man with a child in need of healing approached Jesus. Jesus responded that the child could be healed if the Father believed.  That Father replied:  "I Believe, please help my unbelief."  Is this a biblical example of doublespeak, or a profound expression of the difficulty of living a genuine, faith led life, and living it consistently?  I think it is the latter as once again words written thousands of years earlier ring true in our crazy world of today…attesting to the ever relevant power of God's word. 
Will you live hypnotized and discouraged by the flashing images on the video screens beside the busy road?  The ones screaming "what might have been".  Or will you choose to see the mom and her sons in the small church beside the quiet road?  I choose to focus beyond my earthly Journey and strive to see the "Greater Journey".   It's the Journey that promises there is more to this life that we see on the shiny surface.  This is the Journey that dares you to look deeper.  And this is the Journey that answers the question many of us struggle with far too often. 
Yes… what I do can truly matter.
THE VIEW FROM MY WINDOW - March 2022  
FORWARD!
It's been a while since I've written a "real" blog, so this seems like the time!  I could talk about the construction progress for our Studio/Office building, but I think I've covered that one of late. (I'll post a link to the latest video at the bottom just in case you haven't seen it).  I could tell you how that we are finally "on the road again", headed to Southwest Missouri for a couple weeks, and three churches.  At two of these opportunities I get to tell Matt's story.  The third is one of those "first churches" that partnered with us and really helped KSM get started.  I could talk about how beautiful the rural section of Oklahoma Route 2 that was are traveling on is.  How it is framed by the mountains just now inhabiting the horizon. I could ask you to pray for us, but my guess is that after reading these words many of you already are. I might even discuss the end times events that Dr. David Jeremiah is sharing as I write this, courtesy of the audio version of his latest book.  Instead, I'll see if I can still write one of those "real" blogs like I used to.  We'll see… 
I've shared with you before that the church we are serving part time is a "country church" complete with a cemetery of the same name right across the county road.  Last Sunday was a gorgeous 70 degree first day of spring in East Texas.  Our morning rehearsal ended a bit early, so I put the two of those together and I came up with a few moments to take a morning walk to get my head together a bit before I led worship. 
Walking down the tree covered gravel path amidst the granite monuments yielded some unexpected thought processes.  First I came across monuments whose etched letters spelled the same last name shared by many of the church members I would soon lead in worship.  Next was the exact name of another Pastor friend whose church we sing at in West Texas.  Could this be a relative?  You bet it was!  Over the next few moments with the morning sun warming my face I would be faced with two of those "unexpected thought processes". 
The next thing that caught my eye was a small area set apart by small blocks set in a rectangle denoting an area where all the markers would share a single last name.  Two of the markers were large, standing approximately four feet from the Texas soil.  The remaining three, situated between the two larger, were markedly smaller.  You've figured this one out already, haven't you?  The first marker was Dad.  The next three represented three children.  On two of those three the dates separating the birth and death were a matter of less than a handful of years.  The middle of the three smaller monument less than a handful of days.  All three death dates covered only a few years, the latest of which was nearly one hundred years earlier.  The last larger monument?  It was Mom.  It was a few years after the death of her last child.  The difference between her birth and death date?  Barely 30 years. 
I have no idea what this family's story is.  I do know that I was again reminded that others have walked a road similar to ours, yet with much more darkness.  I was also reminded that "man's days are few, and full of trouble".  It was strange I guess, but as I stood there I couldn't help but wonder how many tears this mother had cried over the events represented by the three smaller granite markers. 
As I continued my morning walk, now a bit more sober minded, I continued to "do the math" on the time between the births and deaths.  Now I know that statistically our current lifespan is on average greater that what it was a hundred years ago.  Still I was struck with the fact that with few exceptions, the number represented by solving the simple math was less than the number of my years.  Seems that even though many of us have not yet reached that three score and ten, we really are all living on borrowed time. 
So once again today with the blur of the early budding trees out my passenger window and the sun dancing through their mostly bare limbs, I am reminded I must continue to move forward.  I desire to press on and share the story of Matt and the story of Jesus, whether it be with a keyboard or as of late, swinging a hammer.  Some morning, one morning, will be my last morning. It may be the day that the right hand number on my memorial is etched in, marking the end of this earthly existence.  Perhaps it will be the morning when all of what Dr. Jeremiah is talking about right now comes to pass. 
Either way is good for me.  How about you?  Are you certain of your eternity?  Is all well between you and God?  How about between you and your family?  Friends?  The person who sits across the worship center from you every Sunday? 
Who knows what the last words will be that I hear.  I don't know.   I do know, however, what words I want to hear next. 
"Well done". 
I simply want to finish well.  
So for now, forward. 
HERE'S THE VIDEO IN CASE YOU NEED TO CATCH UP...