TEARS IN A BOTTLE... Lessons from a Broken Heart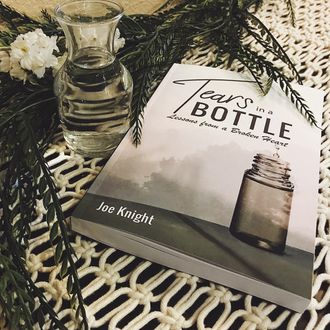 The book that started it all...
"There is Hope!" Experienced loss? Struggling with grief? Joe is no stranger to any of these emotions. After losing his adult son to cancer, Joe shares his family's struggles through powerful stories of their journey.
From a father's point of view, this story shares the unbelievable spirit of hope and the power of God in the middle of life's difficulties. In 2016 Joe and his wife Shaunda set out on THE GREATER JOURNEY through their non-profit KNIGHTSong Ministries to share their son's powerful story. Joe's ministry only builds on the spirit of hope that they experienced after the death of their son.
Their experience, combined with real life stories, opportunities for worship, touching videos and uplifting piano and vocal music provide freedom through faith in Christ in our troubled world. A true story of loss, Tears in a Bottle: Lessons from a Broken Heart will deliver hope in dealing with life's hardships as you learn to hear God speak in unbelievable ways.
You can order the paperback of TEARS IN A BOTTLE directly from KSM for an offering of any amount...
Read more…
Here is the special edition audio version of TEARS IN A BOTTLE... Lessons From A Broken Heart. This is Matt's unbelievable story of hope like you've never heard it before!
Read more…
0:00/0:07

0:00/4:22

0:00/8:22

0:00/8:05

0:00/12:18

0:00/8:55

0:00/2:55

0:00/7:14

0:00/8:08

0:00/10:00

0:00/5:49

0:00/6:09

0:00/4:44

0:00/15:15

0:00/4:33

0:00/7:06

0:00/11:19

0:00/3:56

0:00/9:13

0:00/5:25
ON THE VIRGE... The Journey of a Lifetime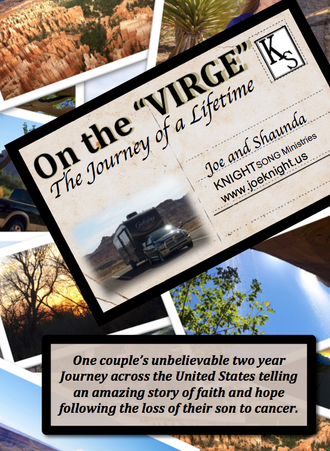 Matt's incredible story of hope brought about a significant life change for Joe and Shaunda.  After 35 years of ministry, the last 21 serving one Church in Greenville Texas, they sold there home and nearly all of their possessions, purchased a fifth wheel and a truck.  They then set out on a four year odyssey criss-crossing the country telling Matt's story in concerts, church services and concerts.
Part travelogue, part devotional, this is their amazing story written as it occurred.
You can order the paperback or e-book directly from KSM for an offering of any amount.
Read more…
Stories From The Road... Lessons From Life... and Death